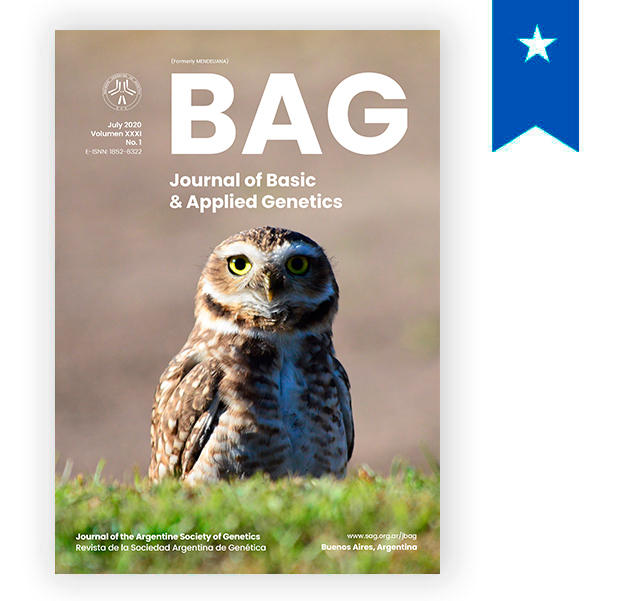 Vol. XXXI Issue 1

July 2020
ISSN online version: 1852-6233
DOI: 10.35407/bag.2020.31.01
Esta obra está bajo una
Licencia Creative Commons Atribución-NoComercial-CompartirIgual 4.0 Internacional
.
ARTICLE 1 – research
CREUTZFELDT-JAKOB SYNDROME OF GENETIC ORIGIN: SERIES OF CASES IN THE ARGENTINIAN PATAGONIA
ENFERMEDAD DE CREUTZFELDT-JAKOB DE ORIGEN GENÉTICO: SERIE DE CASOS EN LA PATAGONIA ARGENTINA 
Exeni Díaz G., Costa M., Salman J., Ávila S.
Creutzfeldt-Jakob disease (CJD) is an uncommon neurodegenerative disorder with an incidence of 1 per 1,000,000 in humans per year, typically characterized by rapidly progressive dementia, ataxia, myoclonus and behavioral changes. Genetic prion diseases, which develop due to a mutation in the prion protein gene (PRNP), account for an estimated 10 to 15% of all CJD cases. Familial CJD is transmitted with an autosomal dominant inheritance pattern with high penetrance. Worldwide, the most common mutation is E200K (glutamate to lysine). We report four families with CJD assisted in Neuquén Hospital in 2018. Three of the four index cases had family history of neurological and psychiatric illness, though data was not taken into consideration at the moment of evaluation of the new cases. The most significant data recorded for a genetic consultation was when the problem had started, and it was required by a neurologist. The initial symptoms were persistent insomnia and depression with poor response to habitual psychiatric medication. Impoverishment is fast with visual disorder, myoclonias, ataxia, dementia and loss of language. Pedigree analysis allowed the identification of 144persons  with the gene potential, who can develop the disease at any time in their adulthood. In all cases, mutation E200K was identified. There is a region of increased frequency of CJD. There must be suspicion on patients with neuropsychiatric symptoms and suspected family history(familiar background). Finding of the mutation confirms the diagnosis in patients and allows the identification on pre-symptomatic individuals. Challenge is posed on gene advice and to avoid iatrogenic disorder transmission.
Key words: Familial Creutzfeldt-Jakob Syndrome, PRNP gene, E200K, CJD in Patagonia
Doi: 10.35407/bag.2020.31.01.01
Language: Spanish
Esta obra está bajo una
Licencia Creative Commons Atribución-NoComercial-CompartirIgual 4.0 Internacional
.
ARTÍCLE 2 – research
ANALYSIS OF GENOTOXICITY IN ERITHROCYTES OF TURTLES (Phrynops hilarii) FROM ANTHROPIZED AND NATURAL SITES OF ENTRE RÍOS, ARGENTINA
ANÁLISIS DE GENOTOXICIDAD EN ERITROCITOS DE TORTUGAS (Phrynops hilarii) DE SITIOS ANTROPIZADOS Y NATURALES DE ENTRE RÍOS, ARGENTINA
Castaño G. V., Cabagna Zenklusen M., Prieto Y., Manzano A. S.
The micronucleus test (MN) is a biomarker of non-destructive genotoxicity that allows chromosomal damage and other nuclear alterations (NA) to be detected. Phrynops hilarii is a freshwater chelonium that inhabits regions of central-northern Argentina. The main objective was to determine the presence of MN and other NA in erythrocytes of natural populations of P. hilarii comparing their frequencies between three sites, two anthropized and one of control (cities of Diamante and Paraná) of Entre Ríos, Argentina, during the period 2015-2016. Eighteen individuals (six per sampling site) were evaluated at the sites: 1- PD: Pre-Delta National Park (control), 2- AG: Salto Ander Egg (agroecosystem) and 3- SU: Caleta Club Náutico (urban system). Blood was obtained from the femoral vein. The samples were stained with the May Grünwald-Giemsa method and observed under a microscope with an immersion objective. Micronucleus (MNF) and nuclear alterations (NAF) frequencies were determined every 1000 erythrocytes observed. A significant difference (p<0.05) was found between the PD site and the other sites (AG and SU), both for MNF (p=0.0021) and for NAF (p=0.0011). The highest frequency values ​​corresponded to the AG site (MNF: 3.33 ± 0.62; NAF: 4.67 ± 0.56). Finally, biomonitoring with P. hilarii was useful, so it could be considered as a bioindicator species to assess the quality of Argentina's environments.
Key words: Genotoxicity biomarkers, micronucleus test, nuclear alterations
Doi: 10.35407/bag.2020.31.01.02
Language: Spanish

Esta obra está bajo una
Licencia Creative Commons Atribución-NoComercial-CompartirIgual 4.0 Internacional
.
ARTÍCLE 3 – research
META-ANALYSIS FOR EVALUATING THE EFFICIENCY OF GENOMIC SELECTION IN CEREALS
META-ANÁLISIS PARA EVALUAR EFICIENCIA DE SELECCIÓN GENÓMICA EN CEREALES
Rueda Calderón M. A., Balzarini M., Bruno C.
Genomic selection (GS) is used to predict the merit of a genotype with respect to a quantitative trait from molecular or genomic data. Statistically, GS requires fitting a regression model with multiple predictors associated with the molecular markers (MM) states. The model is calibrated in a population with phenotypic and genomic data. The abundance and correlation of MM information make model estimation challenging. For that reason there are diverse strategies to adjust the model: based on best linear unbiased predictors (BLUP), Bayesian regressions and machine learning methods. The correlation between the observed phenotype and the predicted genetic merit by the fitted model provides a measure of the efficiency (predictive ability) of the GS. The objective of this work was to perform a metaanalysis on the efficiency of GS in cereals. A systematic review of related GS studies and a meta-analysis, in wheat and maize, was carried out to obtain a global measure of GS efficiency under different scenarios (MM quantity and statistical models used in GS). The meta-analysis indicated an average correlation coefficient of 0.61 between observed and predicted genetic merits. There were no significant differences in the efficiency of the GS based on BLUP (RR-BLUP and GBLUP), the most common statistical approach. The increase of MM data, make GS efficiency do not vary widely.
Key words: Systematic review; Random effects model; Forest plot; Predictive accuracy. Doi: 10.35407/bag.2020.31.01.03 Language: Spanish
Esta obra está bajo una
Licencia Creative Commons Atribución-NoComercial-CompartirIgual 4.0 Internacional
.
ARTÍCLE 4 – research
IDENTIFICACIÓN DE ALTERACIONES MOLECULARES EN PACIENTES VENEZOLANOS CON DIAGNÓSTICO DE LEUCEMIA LINFOBLÁSTICA AGUDA
IDENTIFICATION OF MOLECULAR ALTERATIONS IN VENEZUELAN PATIENTS WITH ACUTE LYMPHOBLASTIC LEUKEMIA DIAGNOSIS
Castro Y.C., Utrera R.
Acute Lymphoblastic Leukemia (ALL) is the most common neoplasm in pediatric age. In recent years, between 15 and 20% of patients failed in their treatments. Knowledge on cytogenetics and molecular biology has an important impact on the determination of the prognosis and the appropriate treatment scheme. In Venezuela there is limited knowledge regarding the molecular genetics of this onco-hematological alteration. The aim of this work was to evaluate the most frequent genetic alterations in Venezuelan patients with a clinical diagnosis of acute lymphoblastic leukemia. A cross-sectional, descriptive and prospective study was carried out from 2006 to 2014, in which the translocations ETV6/RUNX1, MLL/AF4, TCF3/PBX1, BCR/ABL1, as well as mutations in the PAX5 and FLT3 genes were evaluated through the use of different types of PCR. One hundred and thirty patients with a clinical diagnosis of acute lymphocytic leukemia were included in the study. Molecular alterations were identified in 56 patients (43.1%), in which we observed the presence of one or several alterations in conjunction in the same patient. The alterations identified were t(12; 21) (11.5%), t(4; 11) (8.5%), t(1; 19) (10%), t(9; 22) (20.8%), ITD-FLT3 (14.8%), P80S mutation (4.2%) and S77del (4.2%) in the PAX5 gene. The prevalence of BCR/ABL is one of the highest described so far in cases of ALL where most of the population is made up of pediatric patients. These results represent the first molecular study of ALL in Venezuela, laying the foundations for the diagnosis and monitoring of the disease in its population.
Key words: Acute Lymphoblastic Leukemia; Translocations; ETV6/RUNX1; MLL/AF4; TCF3/PBX1; BCR/ABL1; PAX5; FLT3.
Doi: 10.35407/bag.2020.31.01.04
Language: Spanish

Esta obra está bajo una
Licencia Creative Commons Atribución-NoComercial-CompartirIgual 4.0 Internacional
.
ARTÍCLE 5 – research
ALTERNATIVELY POLYADENYLATED CALPASTATIN TRANSCRIPTS IN BOVINE MUSCLES
TRANSCRIPTOS ALTERNATIVAMENTE POLIADENILADOS DE CALPASTATINA EN MÚSCULOS DE BOVINO
Casale M.F., Silvestro C., Corva P.M., Soria L.A.
Calpastatin activity has a key role in the tenderization process that occurs during postmortem storage of meat under refrigerated conditioning. The regulation of calpastatin (CAST) expression is highly complex, the gene has four putative promoters and at least three different polyadenylation sites, and it is also alternatively spliced. We investigated the presence of alternative polyadenylation (APA) isoforms of CAST transcripts in three muscles (infraspinatus, triceps brachii and semitendinosus) of two bovine breeds (Angus and Brahman). The 3´ RACE-PCR was used to specifically amplify the different APA sites. The amplified fragments were cloned and sequenced. Sequencing confirmed the existence of three expected polyadenylation sites corresponding to short, medium and long polyadenylated transcripts. Also, transcripts with a novel APA site were found in the three muscles of both breeds. Because the same APAs isoforms were found between muscles and breeds, we could hypothesize a possible contribution to the relative abundance of different isoforms, probably in coordination with promoter preference and alternative splicing. This knowledge would be useful in the design of future experiments to analyze differential expression of CAST isoforms and their contribution to the definition of beef tenderness.
Key words: Beef cattle; Alternative polyadenylation; 3´ RACE-PCR.
Doi: 10.35407/bag.2020.31.01.05
Language: English

Esta obra está bajo una
Licencia Creative Commons Atribución-NoComercial-CompartirIgual 4.0 Internacional
.
ARTÍCLE 6 – research
GENETIC CHARACTERIZATION THE STOCKS OF PROCHILODUS MAGDALENAE (PISCES: PROCHILODONTIDAE) USED IN STOCKING PROGRAMS IN COLOMBIA
CARACTERIZACIÓN GENÉTICA DE REPRODUCTORES DE PROCHILODUS MAGDALENAE (PISCES: PROCHILODONTIDAE) USADOS EN PROGRAMAS DE REPOBLAMIENTO EN COLOMBIA
de la Rosa J., Fontalvo P.P., Orozco-Berdugo G., Narváez-Barandica J.C.
Prochilodus magdalenae is an endemic fish species of Colombia known as an important resource of commercial interest for many communities related to fishing activities as a livelihood activity. However, population deterioration has been observed in natural environments due to factors such as overfishing, fragmentation of ecosystems, among others. This makes it necessary to characterize the genetic diversity of P. magdalenae in the productive systems of some fish farms, which are used to restocking in other basins of Colombia and, thus, to propose technical and scientific criteria that allow the development of management strategies for the conservation of this species. Therefore, in 2013, caudal fin tissue was collected from 1044 individuals in seven fish farms, which were processed in the laboratory. Through the use of seven microsatellites, genetic metrics such as: observed and expected heterozygosity, number of alleles, fixation indexes, F statistics, Bayesian grouping and AMOVA were evaluated. We observed low heterozygosity, correlated with inbreeding processes, which contrast with the high values obtained in the expected heterozygosity index and the number of alleles detected in P. magdalenae productive systems. A moderate genetic differentiation between fish centers was detected and the existence of three genetic groups was observed through the Bayesian analysis. Despite the low diversity reported regarding the others species of the same genus, populations held in Bocachico captivity have the potential to restore the diversity of wild populations. Therefore, it is suggested that each fish station should establish batches of breeders separately, based on their genetic information so that there is congruence between the released individuals and those that inhabit the natural environment.
Key words: Bocachico; Reophilic fish; Magdalena Basin; Genetic structure; Fish farms.
Doi: 10.35407/bag.2020.31.01.06
Language: Spanish

Esta obra está bajo una
Licencia Creative Commons Atribución-NoComercial-CompartirIgual 4.0 Internacional
.