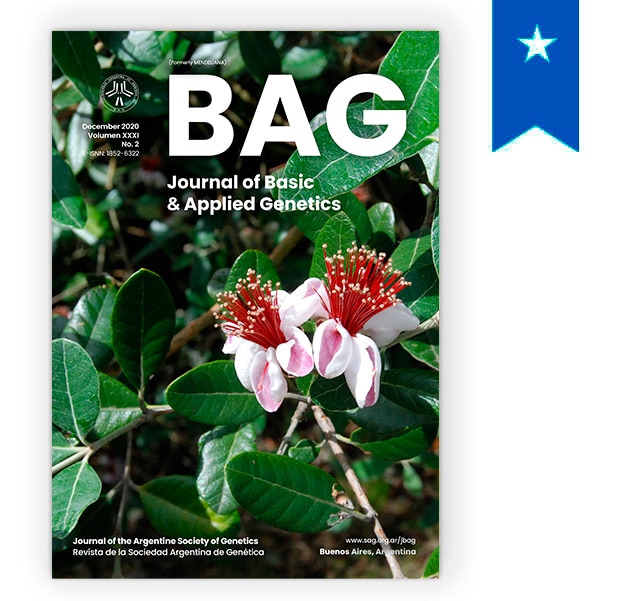 Vol. XXXI Issue 2

December 2020
ISSN online version: 1852-6233
DOI: 10.35407/bag.2020.31.02
Esta obra está bajo una
Licencia Creative Commons Atribución-NoComercial-CompartirIgual 4.0 Internacional
.
ARTICLE 1 – research
FIRST KARYOTYPE REPORT ON Colocasia oresbia: A COMPARATIVE CYTOGENETIC STUDY BETWEEN TWO VARIETIES
PRIMER REPORTE DEL CARIOTIPO DE Colocasia oresbia: UN ESTUDIO CITOGENÉTICO COMPARATIVO ENTRE DOS VARIEDADES

Begum Kazi N., Dash Chandan K., Sultana Syeda S.
Karyotypes of two Colocasia oresbia botanical varieties from Bangladesh were analyzed and compared with orcein, chromomycin A3 (CMA) and 4´-6 diamidino-2-phenylindole (DAPI). Both varieties had 2n=2x=26 chromosomes (karyotypic formula: 20m+6sm) and a pair of satellites each. Total chromosome length was 144.18±2.45 μm in C. oresbia var. oresbia and 133.02±2.75 μm in C. oresbia var. stolonifera. The karyotype of Colocasia oresbia var. oresbia is 2A whereas that of C. oresbia var. stolonifera is 1A. Six CMA and four DAPI bands were observed in C. oresbia var. oresbia and eight CMA and six DAPI bands in C. oresbia var. stolonifera. However, in these two morphologically distinct C. oresbia varieties of two different ecological zones, the same somatic chromosome number, diversification in various karyotypic parameters and CMA/DAPI-banding patterns were observed. In addition to taxonomic characters, the studied karyotype features will contribute to the characterization of these two C. oresbia varieties and to establish a base for future research.
Key words: chromosome banding; CMA; DAPI; Karyotype.
Doi: 10.35407/bag.2020.31.02.01
Language: English
Esta obra está bajo una
Licencia Creative Commons Atribución-NoComercial-CompartirIgual 4.0 Internacional
.
ARTÍCLE 2 – research
SEQUENCE ANALYSIS SUGGESTS POSITIVE SELECTION ON THE BOVINE PRODYNORPHIN GENE
ANÁLISIS DE SECUENCIAS GENÓMICAS SUGIEREN QUE EL GEN DE LA PRODINORFINA ESTÁ BAJO SELECCIÓN POSITIVA EN BOVINOS
Suqueli García M.F., Castellote M.A., Corva P.M.
Dynorphin A is an endogenous opioid peptide that is part of the KNDy system in the hypothalamus of mammals. This peptide acts as an inhibitor of the GnRH pulse generation, thus regulating the onset of puberty and reproductive cycles. The PDYN gene encodes the propeptide Prodynorphin, the precursor of Dynorphin A. Despite its physiological relevance, PDYN has not emerged as a candidate gene associated with puberty in genomic association studies conducted in cattle. The present work aimed to search for signatures of selection on the PDYN gene among cattle breeds. To this, the whole genome sequences from 57 samples of ten cattle breeds were used. The samples were grouped based on breed selection history and their productive differences, particularly in terms of sexual precocity. The population structure was analyzed using Principal Component Analyses. To evidence recent selection processes, neutrality tests, such as Tajima's D and Fu & Li's F* and D* were performed in defined functional regions of PDYN. The putative promoter of PDYN showed a population structure that is in agreement with the criteria considered to make the groups. In that region, neutrality tests were consistently negative and resulted in statistically significant for the dairy breeds. Also, these breeds exhibited less variability in the haplotype analyses than the others. The results presented here suggest that regulatory regions of PDYN could be under positive selection, particularly in dairy breeds.
Key words: reproduction; KNDy neurons; Dynorphin; signatures of selection.
Doi: 10.35407/bag.2020.31.02.02
Language: English

Esta obra está bajo una
Licencia Creative Commons Atribución-NoComercial-CompartirIgual 4.0 Internacional
.
ARTÍCLE 3 – research
CHROMOSOME NUMBER VARIATION IN PART OF THE FLORA
OF PROTECTED WILD AREAS IN THE ARAUCANiA REGION OF SOUTHERN CHILE
VARIACIÓN DEL NÚMERO CROMOSÓMICO EN PARTE DE LA FLORA
DE ÁREAS SILVESTRES PROTEGIDAS EN LA REGIÓN DE LA ARAUCANÍA,
SUR DE CHILE
Jara-Seguel P., Urrutia-Estrada J., Vallejos N., Andrade E., Jara M.
An analysis was made of the correspondence between species diversity and chromosome number (CN) diversity across 13 Protected Wild Areas (PWA) in the Araucanía Region of southern Chile, encompassing 84 plant species with available cytogenetic data. Our aim was to establish whether higher species diversity within a PWA entails higher CN variation as based on the index of chromosome number heterogeneity (ICNH). The CN data were extracted from databases for Chilean plants, and the ICNH for the flora of each PWA was calculated. Results showed that in nine PWA the species diversity clearly correlates with CN diversity. However, four PWA do not fit this trend. The percentage of species with CN data varied between 9.6% and 24.5% among PWA, with 11 PWA presenting percentages higher than 11%. A 27.3% of the Chilean vascular plant species with available cytogenetic data were studied here for the 13 PWA. The results obtained by studying one part of the flora with available CN data suggest that the PWA could be an important reservoir of genetic diversity at a chromosome level, thus justifying the protective role of the PWA as biodiversity conservation sites.
Key words: Chromosome number heterogeneity; floristic diversity; Chilean flora.
Doi: 10.35407/bag.2020.31.02.03
Language: English

Esta obra está bajo una
Licencia Creative Commons Atribución-NoComercial-CompartirIgual 4.0 Internacional
.
ARTÍCLE 4 – research
CYSTIC HYGROMA AND THE IMPORTANCE OF THE PRENATAL DIAGNOSIS: ABOUT A CASE
HIGROMA QUÍSTICO Y LA IMPORTANCIA DE SU DIAGNÓSTICO PRENATAL: A PROPÓSITO DE UN CASO
Almonacid I., Zuleta P., Neri C., Zannin A., Garzón M., Dorado J., Medina F., Celis L.G. 
The cystic hygroma is the malformation of the lymphatic system that is most frequently observed in the prenatal period and is located mainly in the neck and/or the nape of the neck. Its detection rate has increased since the implementation of fetal nuchal translucency (NT) in the first trimester of pregnancy and its presence has been associated with congenital abnormalities, aneuploidies, pregnancy loss, and developmental disorders. The aim of this case is to highlight the importance of antenatal diagnosis of cystic hygroma in order to perform early intervention and avoid fetal death. It is received, for anatomopathological study, a fetus of undetermined sex product of the first pregnancy of a 19 year-old mother without previous prenatal controls, with the presence of a large cystic mass that extends from the face to the neck. The histological study confirms the diagnosis of cystic hygroma. As there was no karyotype analysis, it was not possible to establish the preexistence of any genetic abnormality. Also known as cystic lymphangioma, is a benign vascular tumor whose antenatal diagnosis by ultrasonography is essential in the evolution and prognosis of the disease. Unfortunately in our case, the lack of prenatal controls and the absence of ultrasonographic studies that would allow knowing the characteristics of this lymphangioma, could significantly impact in the fatal outcome.
Key words: lymphangioma; prenatal diagnosis; fetal nuchal translucency.
Doi: 10.35407/bag.2020.31.02.04
Language: Spanish

Esta obra está bajo una
Licencia Creative Commons Atribución-NoComercial-CompartirIgual 4.0 Internacional
.
ARTÍCLE 5 – research
ALLELES ASSOCIATED TO DISEASE SEVERITY INDEX OF MAL DE RÍO CUARTO DISEASE IN MAIZE EXOTIC GERMPLASM
ALELOS ASOCIADOS AL ÍNDICE DE SEVERIDAD DE LA ENFERMEDAD MAL DE RÍO CUARTO EN GERMOPLASMA EXÓTICO DE MAÍZ
Rossi E.A., Ruiz M., Bonamico N.C., Balzarini M.G.
Mal de Río Cuarto (MRC) is one of the most important viral diseases of maize in Argentina. The disease severity index (DSI) allows to combine the incidence and severity of a disease in a single metric. The genotypic reaction to MRC has been extensively studied in biparental populations. However, this complex trait has not been analyzed by genome-wide association studies (GWAS). The aim of this work is to identify new resistance alleles associated with DSI of MRC in an exotic germplasm from the International Maize and Wheat Improvement Center (CIMMYT). A population of maize lines from CIMMYT was phenotypically evaluated in environments in the area where the disease is endemic. The predictors of genetic effects (BLUP, best linear unbiased predictor) and 78,376 SNP markers (Single Nucleotide Polymorphism) were used to perform the GWAS in 186 maize lines. The values of variance components and mean-basis heritability suggest a wide genotypic variability in the population. The GWAS allowed to identify 11 putative QTL of resistance to MRC. The incorporation of exotic germplasm into local maize breeding programs could contribute favorably to the creation of hybrids with a higher level of resistance to MRC. The predictive ability of associated markers with MRC resistance indicates that marker-assisted selection is an advisable tool for selecting MRC resistant genotypes.
Key words: Disease severity index; genome-wide association study; QTL; SNP.
Doi: 10.35407/bag.2020.31.02.05
Language: Spanish

Esta obra está bajo una
Licencia Creative Commons Atribución-NoComercial-CompartirIgual 4.0 Internacional
.